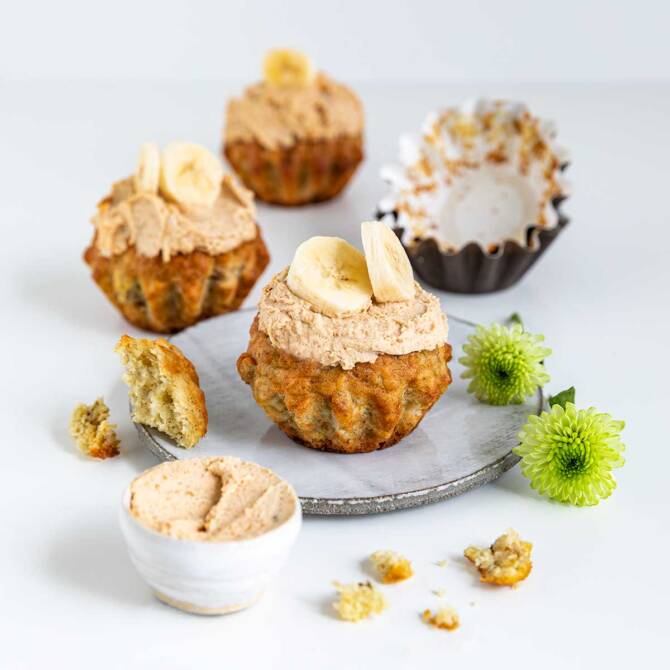 Banana cupcake with peanut butter topping sugarfree
We bake our banana cupcakes with a peanut butter topping and Stevia as a sugar substitute. ➤ juice ➤ fluffy ➤ incredibly delicious
Nutritional information per portion
Preparation without sugar
Preheat the oven to 200 °C.
Mix the eggs, SteviaSweet Granulated, rapeseed oil, yoghurt, puréed banana and lemon zest.
Mix in the dry ingredients and stir into a smooth dough. Be careful not to over-mix the dough.
Pour the mixture into a greased muffin tin or into muffin cases.
Bake on the middle shelf of the oven for 15 to 18 minutes.
Mix curd cheese, peanut butter and SteviaSweet Granulated until smooth. Top the muffins with the mixture.
Back
Ingredients for 12 servings
| | |
| --- | --- |
| 2 | eggs |
| 10 g | SteviaSweet Granulated |
| 100 ml | rapeseed oil |
| 200 ml | low-fat yoghurt |
| 150 g | ripe bananas, puréed |
| | grated zest of 1/2 lemon |
| 195 g | white flour |
| 35 g | oat flakes |
| 1 1/2 tsp | baking soda |
| 1/4 tsp | salt |
Topping:
Used Product:
Back