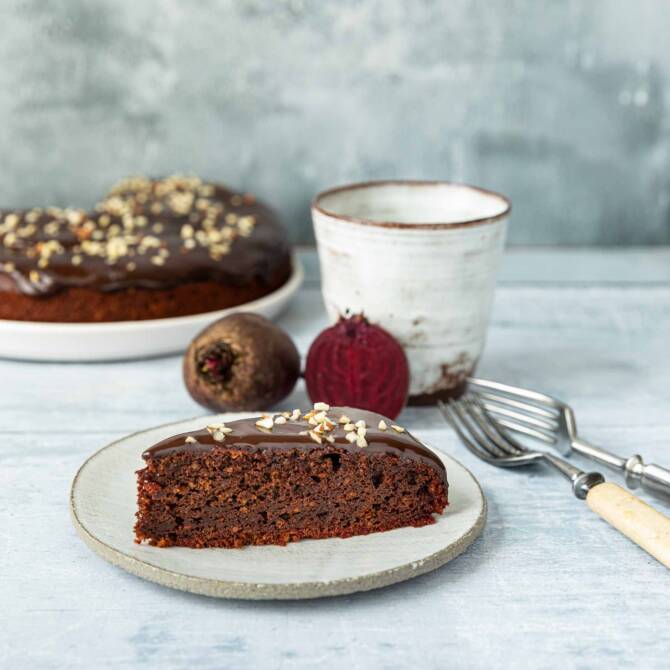 Beetroot and chocolate cake
Time for something different! Try our incredibly delicious beetroot and chocolate cake with SteviaSweet Crystal instead of sugar.
Nutritional information per portion
Preparation
Preheat the oven to 175 °C.
Melt the chocolate and butter in the microwave on a low setting. Peel the beetroot and grate finely. Combine the dry ingredients.

Beat the eggs (once at room temperature) until foamy. Add the chocolate and butter mixture to the beaten eggs and stir to form a smooth batter. Add the dry ingredients and the grated beetroot and mix well. Line a springform tin (Ø 20 cm) with baking paper, grease, and pour in the mixture.
Bake on the middle shelf of the oven for approx. 20 minutes. Reduce the oven temperature to 150 °C and bake for another 20-25 minutes.
Prepare the icing while the cake is cooling. Melt the chocolate for the icing in the microwave on a low setting. Bring the milk to the boil and add to the chocolate. Mix all ingredients to a smooth dough.
Pour the icing over the cooled cake and decorate with ground almonds.
Back
Ingredients for 10 servings
100 g
dark chocolate
50 g
butter
200 g
beetroot
25 g
SteviaSweet Granulated
100 g
wheat flour
45 g
ground almonds
2 tsp
baking powder
3
eggs
Icing
100 g
dark chocolate
50 g
milk
2 tbsp
ground almonds
Used Product:
Back