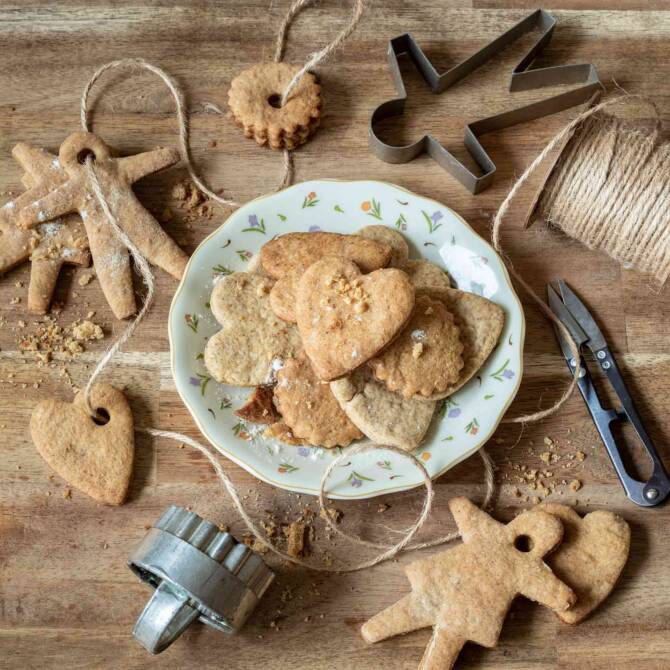 Blond gingerbread cookies
Are you ready to warm up in the kitchen this winter? How about blond gingerbread cookies sweetened with Stevia?
Nutritional information per portion
Preparation without sugar
Heat up the butter and spices in a pot. Put the cream in a bowl and beat with an egg. Mix well and add to the hot butter mixture while stirring constantly. Mix the remaining ingredients and the SteviaSweet Granulated and add to the pot. Carefully mix together to form a smooth dough, but do not knead excessively. Allow the dough to cool in the refrigerator for around an hour.
In the meantime, preheat the oven to 175 °C. Remove the dough from the refrigerator and roll out on a floured surface until it is around 2 to 3 mm thin. Using cutters, cut out small cookies and arrange on a baking tray lined with baking paper. Bake on the middle shelf of the oven for 8 to 10 minutes.
Back
Ingredients for 35 servings
| | |
| --- | --- |
| 100 g | butter |
| 1/2 tsp | ground cloves |
| 1/2 tsp | ground cinnamon |
| 1/2 tsp | ground ginger |
| 1 | egg |
| 100 ml | cream (38%) |
| 260 g | wheat flour |
| 16 g | SteviaSweet Granulated |
| 1/2 tsp | baking soda |
| 1/2 tsp | baking powder |
Used Product:
Back