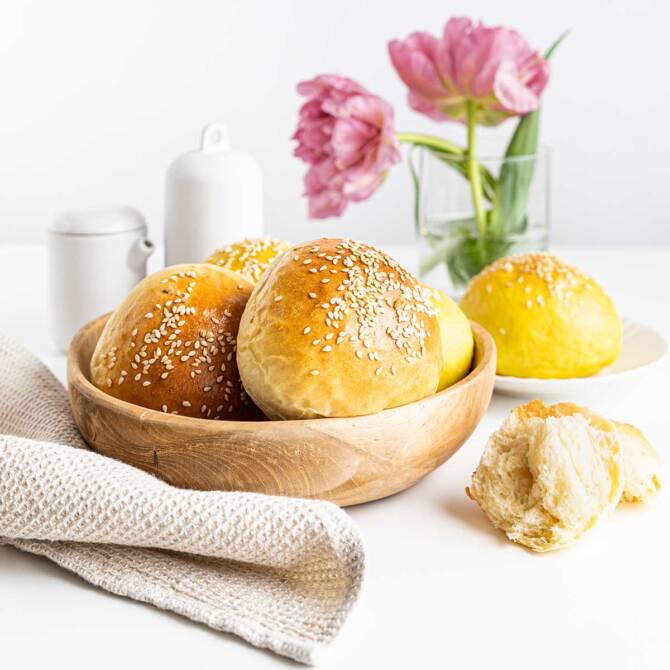 Brioche buns without sugar
Brioches taste great for breakfast or afternoon tea. They also give you a delicious break in the home office. Ever baked?
Nutritional information per portion
Preparation without sugar
Combine the dried yeast, SteviaSweet Granulated, salt and turmeric or fennel seeds. Add half the flour. Warm the milk to 42 °C. Add the warm milk to the flour and yeast mixture and mix until smooth. Add the remaining flour and the egg. Mix the dough in the mixer for around 10 minutes, until it comes away from the sides of the bowl. Finally, add the butter (at room temperature) and mix for another 5 minutes. The dough should be loose but smooth.
Leave the dough to rise for one hour. Once risen, shape the dough into 12 rolls and place on a baking sheet lined with baking paper. Cover with a cloth and leave to rise again.
Preheat the oven to 200 °C. Beat the egg, brush the rolls with the egg and sprinkle with sesame seeds. Bake on the middle shelf of the oven for 15–20 minutes or until the brioches have a little colour.
Serve warm for breakfast or brunch. The brioches are also great as burger buns.
Back
Ingredients for 12 portions
| | |
| --- | --- |
| 11 g | dried yeast |
| 2 tbsp | SteviaSweet Granulated |
| 1 tsp | salt |
| 1 tsp | turmeric or fennel seeds |
| 455 g | white flour |
| 300 ml | milk |
| 1 | egg |
| 50 g | butter (at room temperature) |
For coating
Used Product:
Back