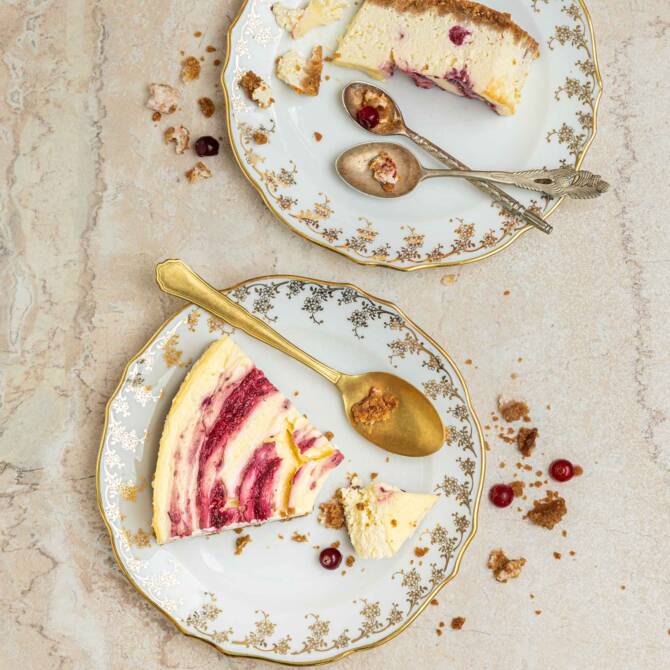 Cranberry marble cheesecake
White tablecloth or rough garden table: This juicy marble cheesecake with cream cheese, a biscuit base and cranberries sweetens your coffee get-together.
Nutritional information per portion
Preparation
Preheat the oven to 150 °C.
Crush the biscuits to crumbs in a food processor or in a plastic bag using a rolling pin. Melt the butter and mix with biscuit crumbs. Place the mixture in a lined springform tin (Ø 20 cm) and press down. Spread half of the cranberries on the mixture for the filling.

Mix cream cheese, eggs and SteviaSweet Granulated with a hand mixer. Carefully add the remaining cranberries to the mixture. Pour the mixture into the springform.

Purée the cranberries for the decoration together with SteviaSweet Granulated using a hand blender. Spread the purée around the top of the cake with a spoon and create a marble design with the tip of a knife.

Bake on the middle shelf of the oven for approx. 50-60 minutes. Leave to cool and keep in refrigerator until it is time for serving. The cake tastes best the following day.
Back
Ingredients for 10 servings
Base
150 g
sugar-free digestive biscuits
75 g
butter
Topping
Serve with
Used Product:
Back