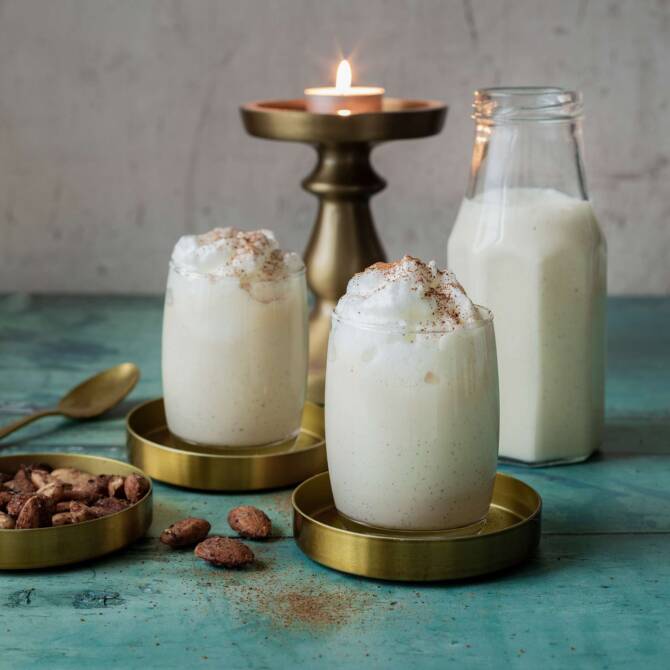 Eggnog spice latte
This eggnog will keep you warm on winter evenings. Indulge in a creamy treat with a hint of cinnamon, vanilla and the light sweetness of Stevia.
Nutritional information per portion
Preparation
Separate the egg whites and yolks into two bowls. Bring the milk, cream, two cinnamon sticks and ground vanilla to the boil in a pot. Add the hot milk-cream mixture to the egg yolks while stirring constantly and mix together well. Add the SteviaSweet Liquid, brandy and rum. Mix together well and then allow to cool in the refrigerator.

Finally, remove the cinnamon sticks and beat the egg whites into a foam immediately before serving. Fold around half of the whipped egg white into the eggnog and keep the rest for garnishing. Pour the eggnog into six glasses, decorate with dollops of whipped egg white and sprinkle with ground cinnamon or grated nutmeg.

You can also enjoy the drink warm!
Back
Ingredients for 6 servings
| | |
| --- | --- |
| 2 | eggs |
| 300 ml | milk |
| 200 ml | cream (38%) |
| 2 | cinnamon sticks |
| 1/2 tsp | ground vanilla |
| 1 tsp | SteviaSweet Liquid |
| 50 ml | brandy |
| 50 ml | dark rum |
Serve with
ground cinnamon
or/and
ground nutmeg
Used Product:
Back