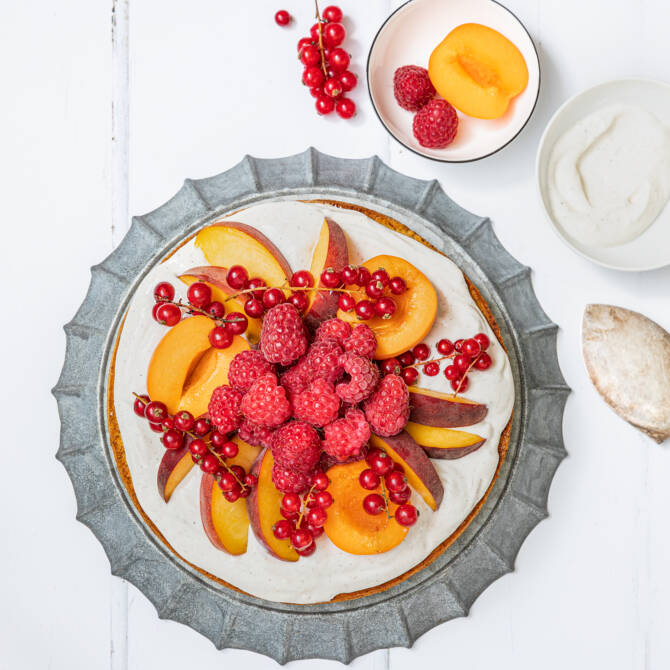 Fresh berry and fruit pie without sugar
Want to bake a cake with fresh berries and fruit? Without sugar, but with curd cheese and cottage cheese? Here's the recipe!
Nutritional information per portion
Preparation without sugar
Preheat the oven to 200 °C.
Line the base of a springform tin (22-24 cm) with baking paper and grease the sides.
Place the eggs in a bowl and whisk lightly. Combine the dry ingredients incl. SteviaSweet Granulated. Add margarine and milk. Mix thoroughly.
Spread the dough in the tin and bake on the middle shelf of the oven for approx. 15-20 minutes.
Leave to cool, then remove the cake from the tin and lift onto a serving plate.
For the filling: Combine the curd cheese, cream cheese, SteviaSweet Granulated and vanilla.
Spread the mixture over the cooled base.
Decorate with fresh berries and fruit.
Back
Ingredients for 10 servings
For the base
| | |
| --- | --- |
| 2 | eggs |
| 10 g | SteviaSweet Granulated |
| 130 g | white flour |
| 25 g | oat bran |
| 1 tsp | baking powder |
| 100 g | melted margarine |
| 75 ml | skimmed milk |
Filling
| | |
| --- | --- |
| 100 g | curd cheese (0 %) |
| 100 g | cream cheese (11 %) |
| 5 g | SteviaSweet Granulated |
| 1/2 tsp | ground vanilla |
| 50 g | redcurrants |
| 100 g | raspberries |
| 1 | peach |
| 2 | apricots |
Used Product:
Back