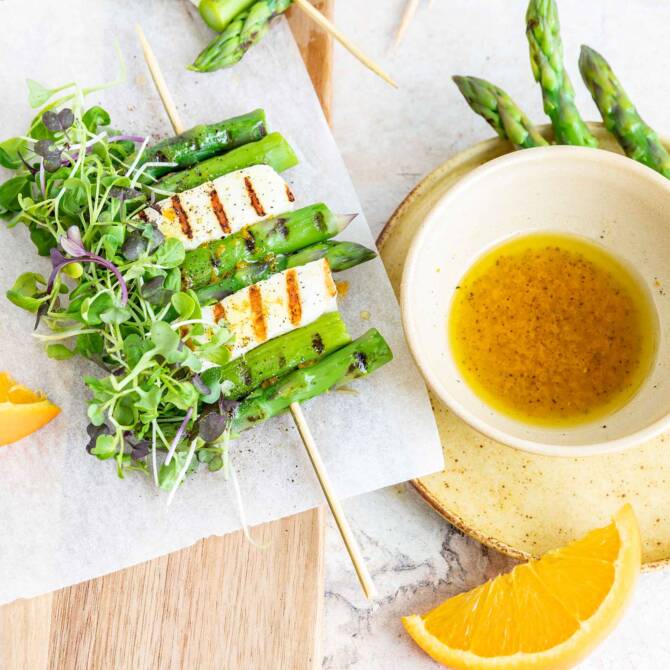 Grilled Halloumi and green asparagus skewers
Enjoy a vegetarian summer meal with this delicious barbecue idea: Try our skewers with fresh green asparagus and Halloumi cheese.
Nutritional information per portion
Preparation
Soak the Halloumi in cold water. (This reduces the salt content in the cheese.)
Remove the woody ends of the asparagus, then cut the remaining asparagus in half. In a pan, bring salted water to boil and cook the asparagus for a few minutes. Drain the hot water and then briefly rinse the asparagus under cold water.
Allow the Halloumi to drain and cut it into eight evenly-sized pieces. Put two pieces of Halloumi and six asparagus pieces on each skewer.
Combine all ingredients for the dip.
Grill the Halloumi and asparagus skewers for about 2 to 3 minutes on both sides or until the cheese is hot.
Plate the skewers and top with the orange dip. Then garnish with salad or cress.
Back
Ingredients for 4 servings
| | |
| --- | --- |
| 500 g | fresh green asparagus |
| 250 g | Halloumi cheese |
Dip
| | |
| --- | --- |
| 2 tbsp | orange juice |
| 1 tsp | orange zest |
| 1 tbsp | white wine vinegar |
| 2 tbsp | olive oil |
| 1/4 tsp | salt |
| freshly ground | black pepper |
| 10 drops | SteviaSweet Liquid​ |
Serve with
| | |
| --- | --- |
| | soaked wooden skewers |
| | small salads or cress |
Used Product:
Back