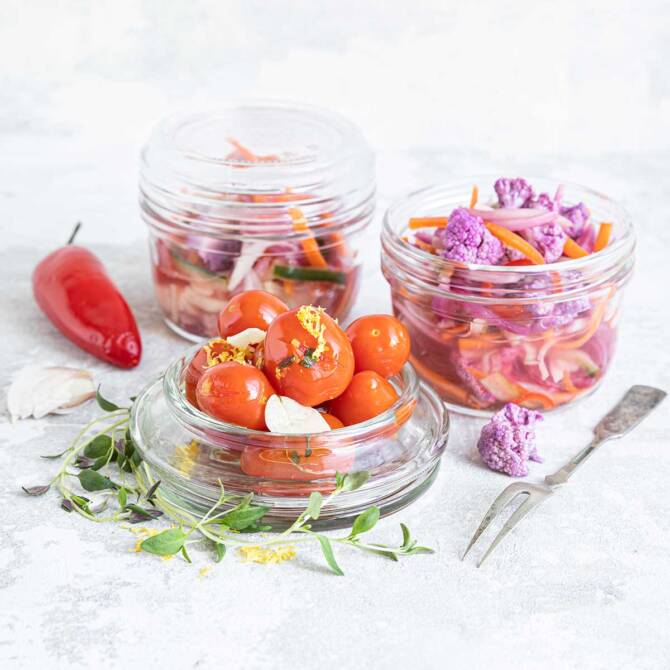 Home made sugarfree pickles (vegan)
Simple sugar-free mixed pickles: Delicious vegetables that are perfect as a snack or with a barbecue.
Nutritional information per portion
Preparation without sugar
Peel the cucumber, carrot and onions. Chop the vegetables into thin strips. Divide the cauliflower into small florets. Place all the vegetables in a bowl. Poke small holes in the tomatoes. Place the tomatoes in a separate container.
Place the ingredients incl SteviaSweet Granulated for the liquid in a pan. Add the garlic and chili. Do the same with the ingredients for the tomato liquid. Bring both liquids to the boil and pour into the vegetable and tomato containers while still hot.
Allow the pickles to cool and leave to infuse in a cool place for at least an hour, or overnight. Serve with a barbecue, toast, salad or bowls.
Back
Ingredients for 2 portions
Spicy vegetable pickles
| | |
| --- | --- |
| 50 g | cucumber |
| 50 g | carrots |
| 50 g | cauliflower |
| 1 | small red onion |
Liquid
Pickled tomatoes
Liquid
| | |
| --- | --- |
| 50 ml | light balsamic vinegar |
| 50 ml | water |
| 1/2 tbsp | SteviaSweet Granulated |
| 1/2 tsp | salt |
| 1 | garlic cloves |
| 1/2 | grated zest of lemon |
| 5 | sprigs of fresh thyme |
Used Product:
Back