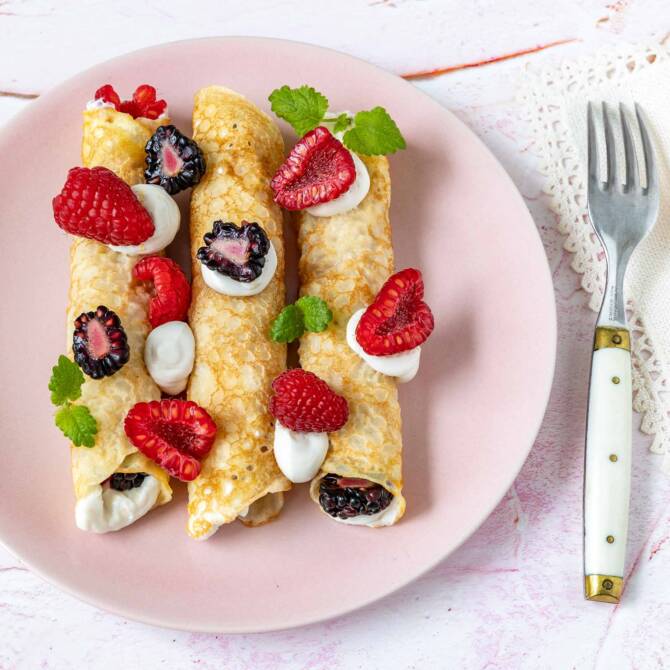 Lemon crepes with berry cream filling (vegan)
Nutritional information per portion
Preparation without sugar
Mix the ingredients for the crepe batter. Grate the zest of half a lemon. Heat a frying pan and add a small portion of margarine. Add a small ladle (50 ml) of batter to the pan. Fry until the surface appears dry, then turn the crepe over using a knife or thin spatula and fry the other side briefly.
Repeat with the remaining batter. Allow the finished crepes to cool to room temperature while you make the filling.
Mix together the SteviaSweet Granulated and cream cheese. Add the grated lemon peel and half the berries. Mix thoroughly. Spread the filling onto the crepes with a spoon and place the remaining berries on top. Roll up the crepes and enjoy.
Back
Ingredients for 8 servings
Crepe batter
| | |
| --- | --- |
| 100 ml | oat, soy or other non-dairy milk |
| 1/2 | grated zest of 1/2 lemon |
| 1 tsp | salt |
| 1 tbsp | SteviaSweet Granulated |
| 130 g | wheat flour |
| 150 ml | mineral water |
| 40 g | vegan margarine for frying |
Filling
Used Product:
Back