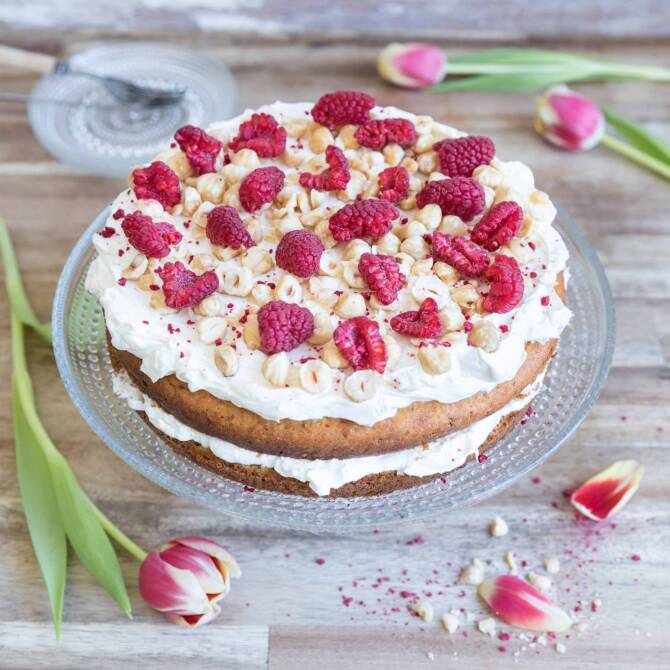 Lemon-raspberry and hazelnut cake
The first signs of spring are coming... This delicious cake with lemon, raspberries and hazelnuts will awaken more than just a spring feeling in you.
Nutritional information per portion
Preparation
Preheat the oven to 200 °C.
Melt the butter and let it cool down somewhat. Mix together the dry ingredients, spices and SteviaSweet Granulated. Pour the butter into a mixing bowl and add eggs and yoghurt. Use a whisker to mix intensively. Add dry ingredients and mix the dough until even. Pour the dough into a greased cake tin (Ø 20-22 cm) and bake in the middle of the oven for 35-40 minutes. Let the cake cool down.
Mix together the crème fraîche and SteviaSweet Granulated. Grate in the lemon zest and add the mascarpone. Carefully mix the ingredients together into an even paste.
Split the cooled-down cake onto two plates. Mix together the lemon juice, water and SteviaSweet Granulated and moisten the plates with the liquid. Spread 1/3 of the lemon cream on top of the base, put some of the raspberries inside the cake and cover with a lid. Spread the rest of the cream over the top and decorate the cake with raspberries and hazelnuts.
Back
Ingredients for 8 - 10 servings
| | |
| --- | --- |
| 150 g | butter at room temperature |
| 200 g | natural yoghurt |
| 2 | eggs |
| 195 g | wheat flour |
| 50 g | ground hazelnut (or ground almonds) |
| 15 g | SteviaSweet Granulated |
| 1 tsp | baking powder |
| 1 tsp | baking soda |
| 1 tsp | cinnamon |
| 1 tsp | powdered cardamom |
Lemon cream
Moistening
To serve
| | |
| --- | --- |
| 150 g | hazelnuts, roasted |
| 200 g | fresh raspberries |
Used Product:
Back