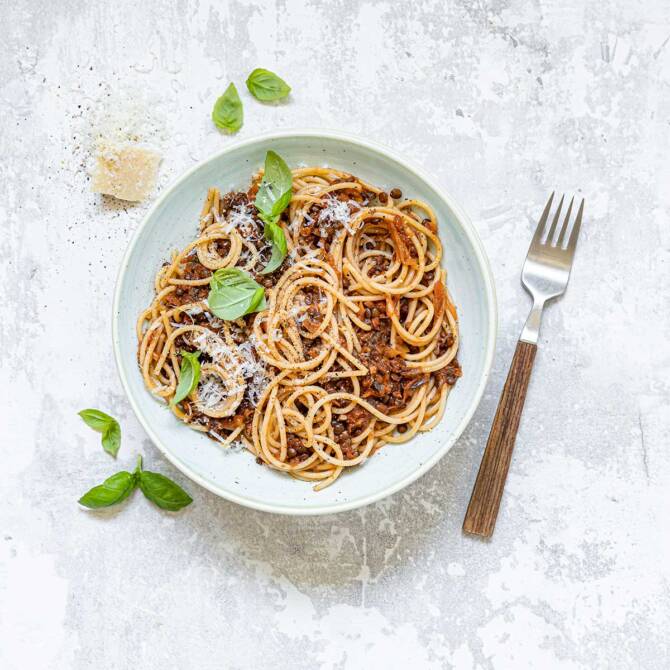 Lentil bolognese without sugar (vegan)
Low-calorie and vegan: This lentil bolognese with basil and thyme flavours brings a touch of Mediterranean indulgence to your day.
Nutritional information per portion
Preparation without sugar
Peel the carrot, onion and garlic. Chop the onion. Heat the oil in a pan and sweat the onions over a low heat for 5-10 minutes, until translucent. Grate the carrot, slice the mushrooms and add both to the pan together with the tomato puree. Cook for a few minutes more.
Add the balsamic vinegar, tinned tomatoes, vegetable stock, thyme and SteviaSweet Liquid. Simmer the sauce for around 15 minutes over a low heat. Then add the lentils. Simmer for another 30 minutes until the lentils are soft. Season to taste.
When the lentils are almost done, cook the spaghetti according to the packet instructions. Drain the spaghetti and mix with the sauce. Serve with grated parmesan, fresh basil and coarsely ground black pepper.
Back
Ingredients for 4 portions
| | |
| --- | --- |
| 1 | carrot |
| 1 | onion |
| 2 | garlic cloves |
| 100 g | champignons |
| 2 tbsp | olive oil |
| 2 tbsp | tomato puree |
| 3 tbsp | dark balsamic vinegar |
| 300 ml | vegetable stock |
| 1 tin | whole peeled tomatoes |
| 1/4 | pot fresh thyme, finely chopped |
| 20 drops | SteviaSweet Liquid |
| 100 g | beluga lentils, rinsed |
| 350 g | wholegrain spaghetti |
| | salt |
Used Product:
Back