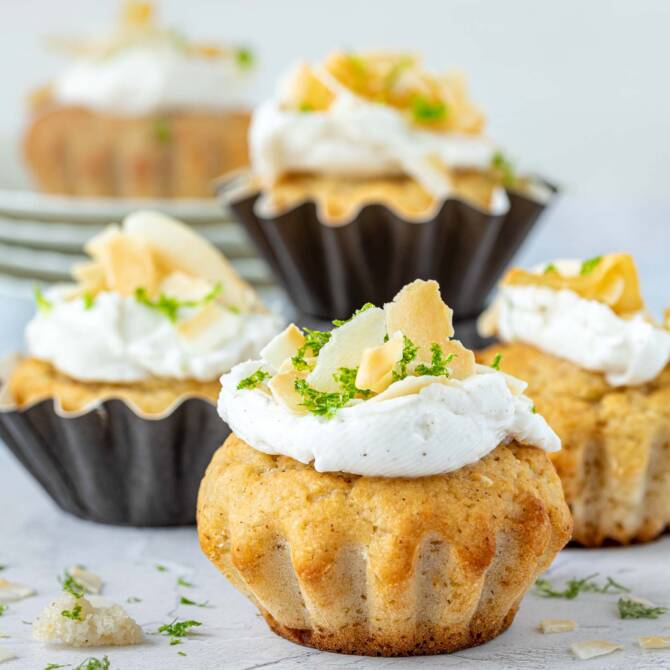 Lime and coconut muffins (vegan)
Dream of a holiday in paradise with these vegan lime and coconut muffins. What are you waiting for?
Nutritional information per portion
Preparation without sugar
Preheat the oven to 175 °C.
Zest and squeeze the lime. Save half of the juice for the icing. Place the dry ingredients in a bowl and mix well. Add the apple sauce, coconut milk and lime. Carefully mix the dough, then spoon it into the cupcake moulds. If you are using paper moulds, place in a muffin tin before filling. Bake on the middle shelf of the oven for approx. 20 to 25 minutes.
Mix the ingredients for the icing and whisk with a hand-held mixer until the mixture is airy. Once cooled, decorate the muffins with the icing, coconut flakes and lime zest.
Back
Ingredients for 12 servings
| | |
| --- | --- |
| 250 g | white flour |
| 14 g | SteviaSweet Granulated |
| 3 tsp | baking powder |
| 1/2 tsp | ground vanilla |
| 1/2 tsp | salt |
| 1 | lime (zest) |
| 1/2 | lime (juice) |
| 200 g | apple sauce |
| 100 ml | coconut milk |
| 50 ml | rapeseed oil |
icing
| | |
| --- | --- |
| 150 g | vegan cream cheese |
| 50 ml | coconut milk |
| 1 tbsp | SteviaSweet Granulated |
| 1/2 tsp | ground vanilla |
| 1/2 | lime (juice) |
Used Product:
Back