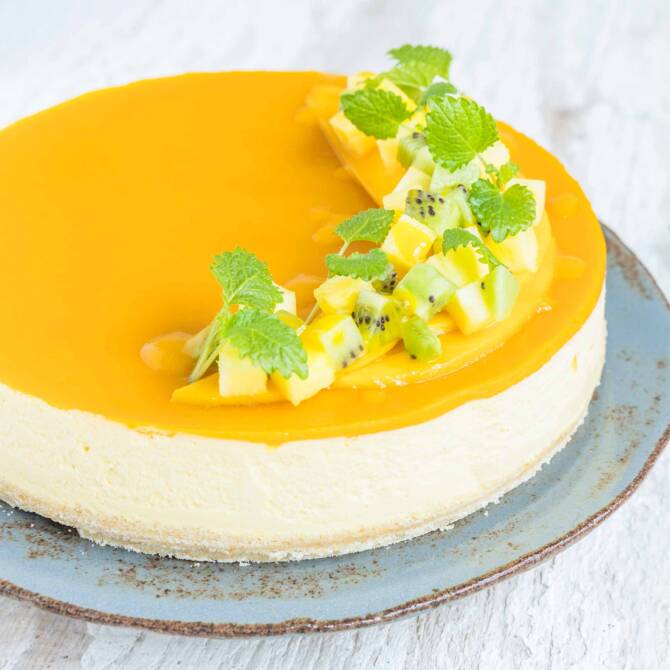 Mango cheesecake
New York in your own home. Even better: New York with a touch of exotic flair. This mango cheesecake makes you the star of cheesecake heaven....
Nutritional information per portion
Preparation
Line the base of a loose-bottomed cake tin (Ø 20 cm) with greaseproof paper. Grind the cookies to a fine powder using a food processor. Add the melted butter and mix well. Press the mass onto the bottom of the cake tin and refrigerate.
Soften the gelatine leaves in cold water. Whip the cream until frothy. Mix the cream cheese, SteviaSweet Granulated and half the mango purée together slowly. Using a hand mixer gives an even result.
Squeeze the gelatine leaves dry of any extra water and add them to the remaining mango purée. Warm the mixture in a microwave or pan, so that the gelatine leaves melt. Pour the purée slowly into the cheese mass, mixing continuously. Finally, add the whipped cream in two portions. Pour the mass into the mould and leave to set at a cold temperature for 4 – 5 hours or overnight.
Back
Ingredients for 8 - 10 servings
Base
| | |
| --- | --- |
| 150 g | of sugar-free biscuits or wholegrain rusks |
| 75 g | melted butter |
Filling
| | |
| --- | --- |
| 10 g | gelatine leaves |
| 200 g | cream (38%) |
| 200 g | unsweetened mango purée |
| 200 g | cream cheese |
| 10 g | SteviaSweet Granulated |
Glaze
| | |
| --- | --- |
| 200 g | unsweetened mango purée |
| 5 g | gelatine leaves |
To serve
| | |
| --- | --- |
| | Fresh mango, pineapple, kiwi or seasonal berries |
Used Product:
Back