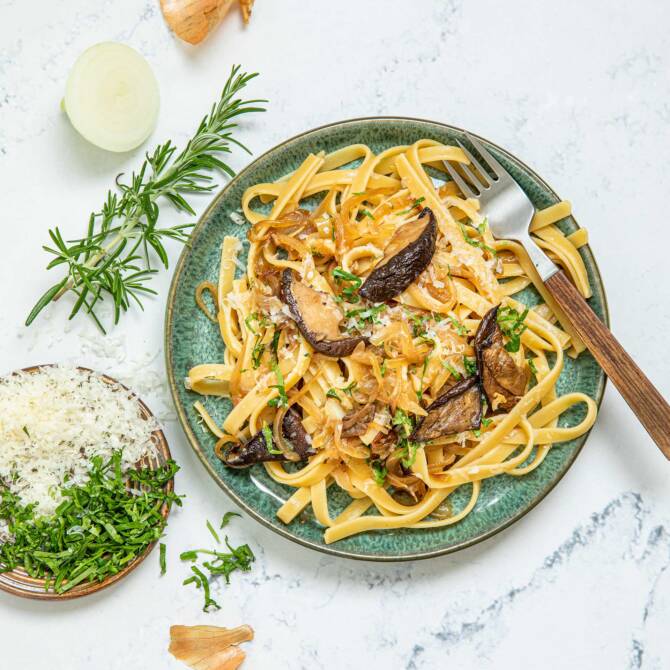 Pasta with caramelized onion and cep mushrooms without sugar
Healthy wholegrain pasta + caramelised onions + foresty porcini mushrooms = a plate full of calories that are a culinary delight!
Nutritional information per portion
Preparation without sugar
Cut the onions into halves and peel. Slice thinly lengthwise.
Heat the oil in a pan. Add the onions and fry over low heat for about 15-20 minutes, stirring occasionally. Keeping the heat low, fry the onions until they are golden brown.
Season with rosemary.
Increase the heat and add the remaining ingredients incl. SteviaSweet Granulated to fry.
Cut the mushrooms into strips or quarters. Peel and slice the garlic. Fry the mushrooms and garlic in a small amount of oil until crispy. Season to taste with salt and pepper.
Cook the pasta in salted water according to the instructions on the package. Drain the pasta thoroughly, saving a few decilitres of the water.
Toss the caramelised onions and mushrooms with the pasta. Add about a decilitre of pasta water. This makes the pasta velvety and less dry.
Serve with grated parmesan and fresh flat-leaf parsley.
Back
Ingredients for 4 servings
Caramelised onions
| | |
| --- | --- |
| 3 (500 g) | large onions |
| 2 tbsp | oil |
| 1 large | fresh twig of rosemary |
| 1 tbsp | SteviaSweet Granulated |
| 1 tbsp | white wine vinegar |
| 1 tbsp | water |
| 1/2 tsp | salt |
Roasted porcini mushrooms
| | |
| --- | --- |
| 300 g | fresh porcini mushrooms (or champignons) |
| 2 | garlic cloves |
| 1 tsp | rapeseed oil |
| | salt |
| | pepper |
| 350 g | wholegrain fettuccine |
To serve
| | |
| --- | --- |
| | parmesan |
| | fresh flat-leaf parsley |
Used Product:
Back