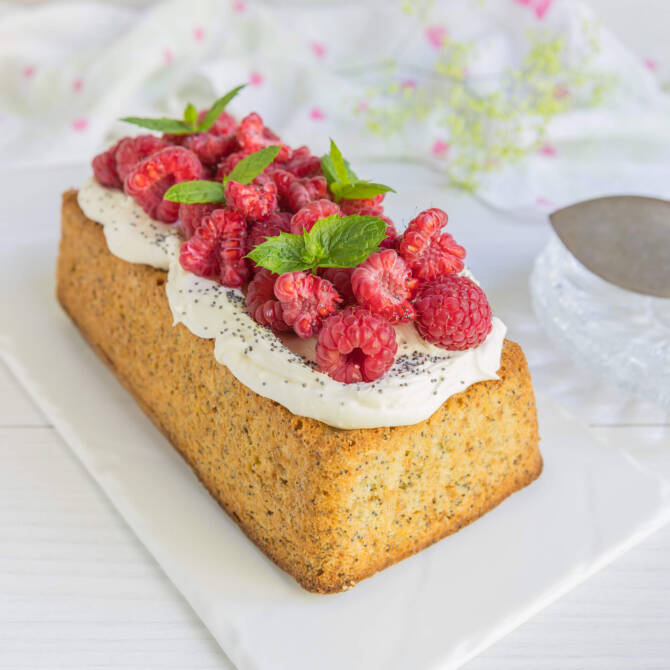 Pound cake with poppy seeds and raspberries
Be inspired by our delicious sugar-free SteviaSweet recipe ideas, and stay balanced while still enjoying your favorite dishes without excess calories!
Nutritional information per portion
Preparation
Preheat the oven to 175 ºC.
Grease a baking tin (1.2l ) with butter. Beat the butter until fluffy and add the sweetener. Continue beating until SteviaSweet Baking Granules has partly dissolved. Add eggs, beating vigorously. Mix the dry ingredients and the orange peel and add the mixture together with the liquids.

Pour the batter into a baking tin and bake for approx. 1 hour. Test if the cake is cooked with a matchstick. If the cake becomes too dark, lower the heat to 150 ºC. Leave the cake to cool down.

Whisk the cream cheese and SteviaSweet Baking Granules into a fluffy paste and spread on top of the cake just before serving. Garnish with fresh raspberries and mint.
Back
Ingredients for 10 servings
| | |
| --- | --- |
| 200 g | soft butter |
| 80 g | SteviaSweet Baking Granules |
| 2 | eggs |
| | Grated peel of 1 orange |
| 100 ml | orange juice |
| 100 ml | milk |
| 240 g | wheat flour |
| 65 g | almond flour |
| 2 tsp | baking powder |
| 50 ml | poppy seeds |
To serve
| | |
| --- | --- |
| 200 g | cream cheese |
| 1 tsp | SteviaSweet Crystal |
| 200 g | fresh raspberries |
| | Some mint |
Used Product:
Back