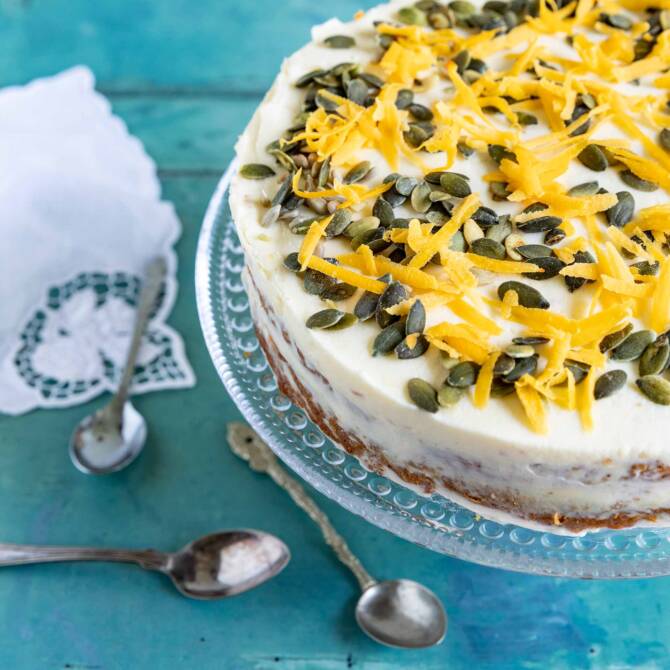 Pumpkin cake
Do you want to bake a pumpkin cake without any sugar? Then we have the perfect stevia-sweetened recipe for you – you'll love the taste!
Nutritional information per portion
Preparation
Preheat the oven to 175 °C.
Grease the sides of a loose-bottomed cake tin (Ø 20 cm) and line the base with baking paper. Peel the pumpkin and grate it finely. Beat the eggs in a bowl and mix with the SteviaSweet Granulated, oil and grated pumpkin. Mix the dry ingredients and add them to the pumpkin mixture. Pour the mixture into the tin and bake in the middle of the oven for about 40-45 minutes.
Take the cake out of the oven and leave to cool slightly. Remove the cake from the tin. Cut the cooled cake in half horizontally. Beat the cream cheese until smooth and mix in the soft butter and SteviaSweet Granulated using a stick blender.
Place the bottom half of the cake on a serving dish and sprinkle with a little milk. Spread one third of the cream cheese mixture onto the bottom half of the cake. Then sprinkle a little milk on the bottom of the top half of the cake and place onto the other half covered with the topping. Press down gently. Spread the remaining topping over the top and sides of the cake. Decorate with grated pumpkin and pumpkin seeds.
Back
Ingredients for 12 servings
Cake
| | |
| --- | --- |
| 300 g | pumpkin (winter or butternut squash) |
| 3 | eggs |
| 30 g | SteviaSweet Granulated ​ |
| 100 ml | oil |
| 230 g | wheat flour |
| 1 tbsp | cinnamon |
| 1 tsp | ground ginger |
| 2 tsp | baking powder |
Filling and icing
To serve
grated pumpkin
pumpkin seeds
Used Product:
Back