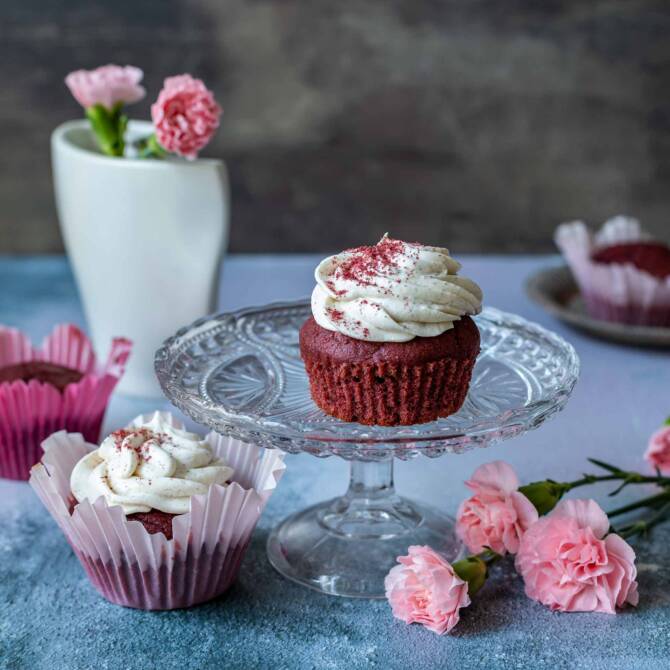 Red Velvet Cupcakes
Nutritional information per portion
Preparation
Preheat the oven to 175 °C.

Place cupcake moulds on a baking sheet. Mix white flour, baking powder, vanilla and cocoa powder. Mix sour milk and red food colouring in a separate small bowl. Melt the butter and beat into a foam with the eggs and SteviaSweet Granulated. Gradually sift the flour mixture into the foam, alternating it with the sour milk, and stir occasionally. Mix white wine vinegar and baking soda quickly and add to the dough. Evenly mix the dough, then pour it into the cupcake moulds. Bake on the middle shelf of the oven for approx. 15 minutes. Leave to cool.

Prepare the icing. Evenly mix SteviaSweet Granulated and Philadelphia cream cheese using a hand-held mixer. Add the whipped cream in small portions while whisking and continue to whisk until the mixture is smooth and airy. Top the cupcakes with icing and serve.
Back
Ingredients for 10 servings
| | |
| --- | --- |
| 75 g | butter |
| 2 | eggs |
| 15 g | SteviaSweet Granulated |
| 130 g | white flour |
| 1/2 tsp | baking powder |
| 1 tbsp | cocoa powder |
| 1/2 tsp | ground vanilla |
| 100 ml | sour milk |
| 1 tbsp | red food colouring |
| | (e.g. Dr. Oetker) |
| 1/2 tsp | white wine vinegar |
| 1/2 tsp | baking soda |
Icing
Used Product:
Back