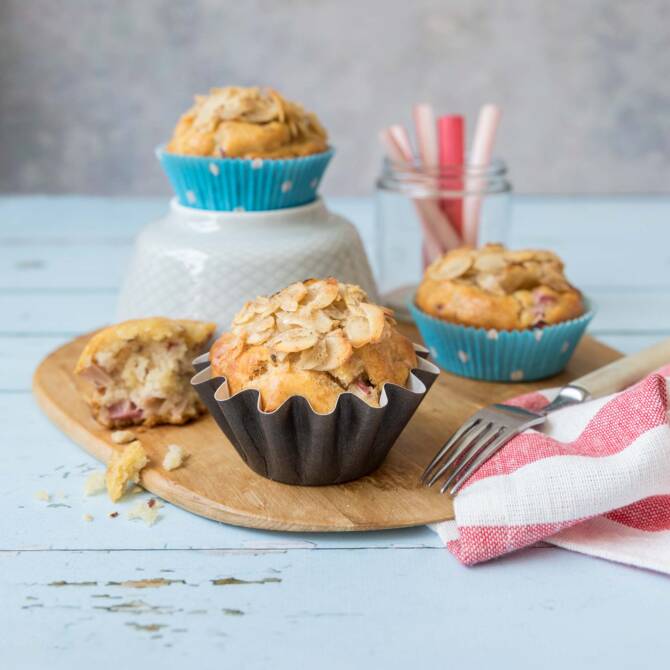 Rhubarb and almond muffins (vegan)
Muffins come in many forms and are ideal for people with convictions. Are you vegan? Then promote your cause with rhubarb and almonds.
Nutritional information per portion
Preparation
Preheat the oven to 200 °C. Dice the rhubarb into small cubes. Mix the dry ingredients and add the diced rhubarb. Combine the oat milk and oil and pour into the mixture. Gently fold together. Spoon the dough into strong muffin moulds or a muffin tin and bake in the middle of the oven for 10 minutes. In the meantime, prepare the icing.
Place the ingredients for the icing, except the wheat flour, into a small saucepan and stir gently until the margarine has melted and the mixture is boiling. Sprinkle the wheat flour in and stir the icing until smooth.
Remove the muffins from the oven, spoon the icing on top of the muffins and return to the oven for another 5 to 8 minutes, or until the muffins are slightly coloured.
Back
Ingredients for 8 portions
Muffins
| | |
| --- | --- |
| 50 g | rhubarb |
| 160 g | wheat flour |
| 10 g | SteviaSweet Granulated |
| 2 tsp | baking powder |
| 1/2 tsp | ground cinnamon |
| 25 g | chopped almonds |
| 50 ml | oat milk |
| 50 ml | canola oil |
Icing
| | |
| --- | --- |
| 35 g | almond slices |
| 5 g | SteviaSweet Granulated |
| 50 g | margarine |
| 1 tbs | oat milk |
| 1/2 tbs | ground vanilla |
| 1 tbsp | wheat flour |
Used Product:
Back