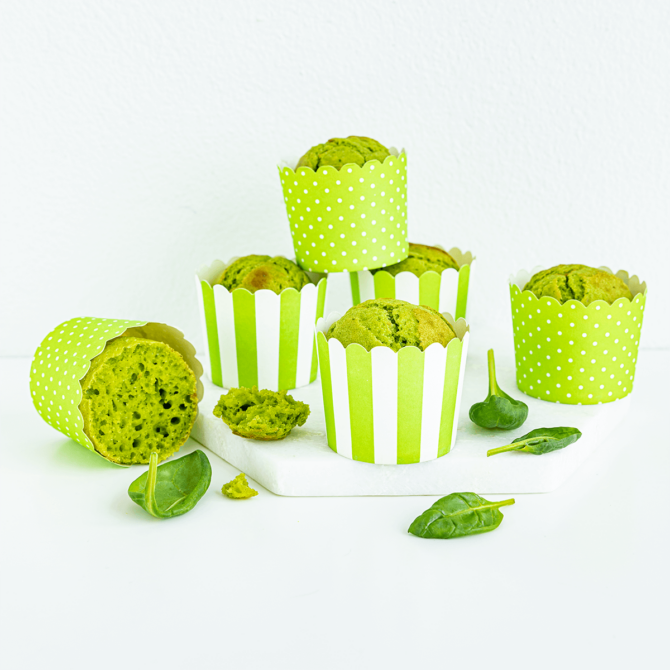 Spinach and banana muffins sugarfree
Tasty green, healthy and delicious muffins with spinach & banana: For a successful St. Patrick's Day celebration – or as a treat.
Nutritional information per portion
Preparation without sugar
Preheat the oven to 200 °C.
Rinse and drain the spinach.
Place the spinach, rapeseed oil, milk, banana, SteviaSweet Granulated nd eggs in a blender and blend until smooth.
Mix flour, baking powder and salt in a bowl.
Then sift the mixture into the spinach froth and fold it in. Only mix until evenly distributed throughout the dough.
Place stable muffin cases with high rims on a baking sheet. Fill the dough into the muffin cases.
Bake in the oven for 15 to 18 minutes until the muffins are done.
Back
Ingredients for 15 small muffins
| | |
| --- | --- |
| 50 g | fresh spinach |
| 50 ml | rapeseed oil |
| 150 ml | milk |
| 1 | banana |
| 14 g | SteviaSweet Granulated |
| 2 | eggs |
| 260 g | white flour |
| 35 g | potato flour |
| 2 tsp | baking powder |
| 1/4 tsp | salt |
Used Product:
Back