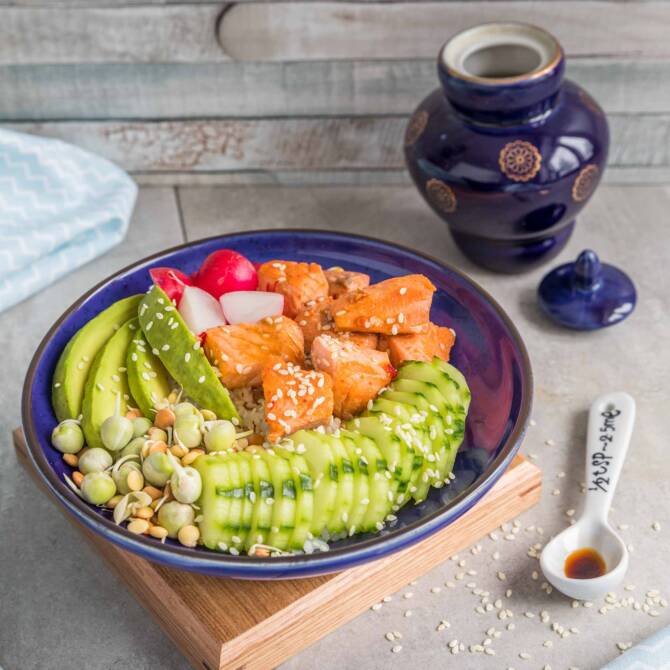 Sushi bowl with salmon and avocado
A visit to Japan. Treat your guests to this fantastic creation of rice, salmon and other delicious ingredients combined in a colourful sushi bowl.
Nutritional information per portion
Preparation without sugar
Rinse the rice in cold water until the water runs clear. Transfer the strained rice into a pan and add the water. Bring to the boil, then steep, covered, for about 10 minutes. Turn off the heat and leave the rice to steam under the lid for 10 more minutes. Mix the rice vinegar,  SteviaSweet Granulated and salt in a bowl. Pour the rice into a shallow bowl and strain the vinegar mixture in. Mix quickly. Unless using right away, cover the rice loosely with cling film.
Remove any skin and bones from the salmon. Cut the fish into cubes. Cook the pieces in a small amount of vegetable oil. Mix the ingredients for the marinade and put the warm fish pieces into the mixture to marinate.
Cut the cucumber and avocado the way you wish. Toast the sesame seeds quickly on a dry pan. Assemble the portions. Put the rice into the bottom of the bowl. Put the salmon cubes and vegetables on top of the rice. Finish with sesame seeds, and if you wish, decorate with radishes and beansprouts.
Back
Ingredients for 4 servings
Sushi-rice
| | |
| --- | --- |
| 250 g | sushi rice |
| 350 ml | water for cooking the rice |
| 2 tbsp | rice vinegar |
| 1 tsp |  SteviaSweet Granulated |
| 1 tsp | salt |
Marinated salmon
| | |
| --- | --- |
| 400 g | fresh salmon |
| | Vegetable oil for cooking |
| 2 tbsp | soy sauce |
| 2 tbsp | rice vinegar |
| 1 tbsp | sesame oil |
| 2 tsp | SteviaSweet Granulated |
| 2 tsp | wasabi paste |
| 1/2 tsp | sambal oelek |
To serve
| | |
| --- | --- |
| 2 | avocados |
| 100 g | cucumber |
| | Toasted sesame seeds |
| | Radish |
| | Beansprouts |
Used Product:
Back