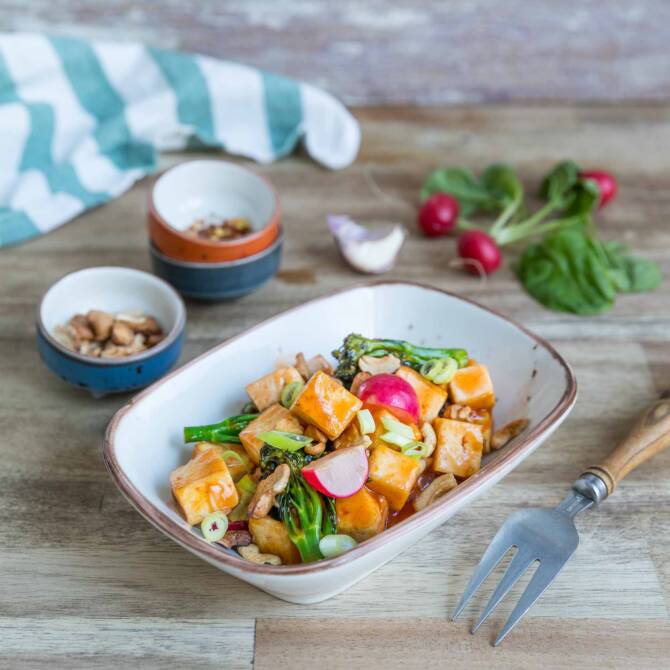 Sweet and sour tofu (vegan)
Our vegan Sweet & Sour, with its exquisite combination of vegetables, herbs and tofu would be a shame to enjoy alone... Invite someone to dinner!
Nutritional information per portion
Preparation
Put all sweet and sour sauce ingredients into a bowl and mix until  SteviaSweet Granulated has melted. Put the sauce to one side to use later. Carefully dry the tofu and cut it into cubes. (1.5 x 1.5cm) Pour half of the vegetable oil into a hot pan and fry the tofu cubes for 7 – 8 minutes until they turn light brown. Place the pieces onto a plate to use later.
Finely grate the garlic and ginger. Quarter the radishes and separate the broccoli florets from the stalks. Cut the scallions into thin rings.
Simmer the garlic and ginger in vegetable oil. Add the chili powder, radishes and broccoli and fry for a few minutes more. Pour the thoroughly-mixed sweet and sour sauce into the pan and bring it to the boil. Add the tofu cubes and cook for a few more minutes so that the tofu is heated. Serve the sauce together with boiled rice. Decorate the serving with fresh coriander and roasted cashew nuts.
Back
Ingredients for 2 - 3 servings
| | |
| --- | --- |
| 200 g | solid tofu |
| 2 tbsp | vegetable oil |
| 2 | garlic cloves |
| 1 tsp | fresh ginger |
| 1/4 tsp | chili powder |
| 100 g | radish |
| 100 g | broccoli florets |
| 50 g | scallions |
Sweet and sour sauce
| | |
| --- | --- |
| 50 g | rice vinegar |
| 100 ml | water |
| 8 g | SteviaSweet Granulated |
| 1 tbsp | tomato purée |
| 2 tbsp | soy sauce |
| 2 tsp | cornstarch |
| | salt |
To serve
| | |
| --- | --- |
| 4 tbsp | roasted cashew nuts |
| | Fresh coriander |
| | (Cooked rice) |
Used Product:
Back