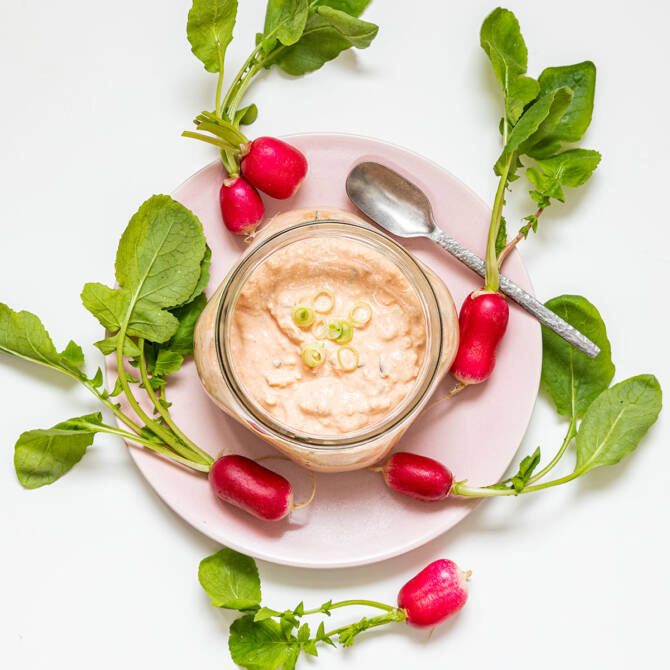 Thousand Island dressing sugarfree
Thousand Island dressing is an American classic – sugar-free and versatile: as a dip, salad dressing or for your hamburger.
Nutritional information per portion
Preparation without sugar
Place the eggs in a pan.
Add cold water until the eggs are covered. Bring the water to a boil.
Once the water is boiling, boil the eggs for 8-10 minutes. Rinse the eggs under cold water.
Peel the eggs and crush them with a fork.
Dice the pickled gherkin into small cubes and cut the spring onions into small rings.
Mix everything together. Dilute with cold water if necessary.
Serve as a dip along with fresh vegetables, barbecue dishes, crisp salad or hamburgers.
Back
Ingredients for 8 portions
| | |
| --- | --- |
| 2 | eggs |
| 1 (100 g) | small pickled gherkin |
| 200 g | Greek yoghurt (10% fat) |
| 2 tbsp | tomato puree |
| 1 tbsp | white wine vinegar (or lemon juice) |
| 1 tsp | Dijon mustard |
| 1 tsp | SteviaSweet Granulated |
| 1 tsp | salt |
| 1 tsp | chilli sauce |
| 2 | spring onions |
Used Product:
Back