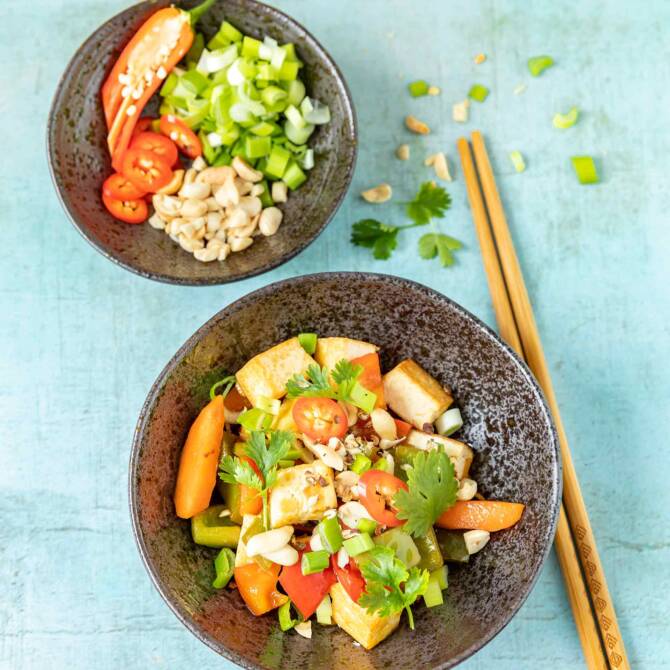 Tofu Kung Pao (vegan)
Nutritional information per portion
Preparation without sugar
Thoroughly dab dry tofu with paper towel. Dice the tofu and fry in oil until crispy. Then set the fried cubes aside for a moment.
Dice bell peppers and slice carrot. Chop garlic and ginger. Heat oil in a wok or in a pan. Add bell pepper, carrot, garlic, ginger and spices. Sauté slightly until the vegetables have lightly caramelised.
Mix ingredients for sauce and pour over vegetables. Simmer briefly and add the crispy fried diced tofu.
Garnish portions with chopped hazelnuts, fresh coriander, scallions and chili. Serve separately or with boiled rice.
Back
Ingredients for 4 servings
| | |
| --- | --- |
| 2 | bell peppers |
| 1 | large carrot |
| 2 | garlic cloves |
| 2 tbsp | fresh ginger |
| 1/2 tsp | Szechuan pepper |
| 1/4 tsp | dried chili |
| 2 tbsp | oil |
Sauce
Serve with
| | |
| --- | --- |
| 35 g | salted hazelnuts |
| 4 tbsp | scallions |
| 4 tbsp | coriander |
| 2 tbsp | fresh chili |
Used Product:
Back