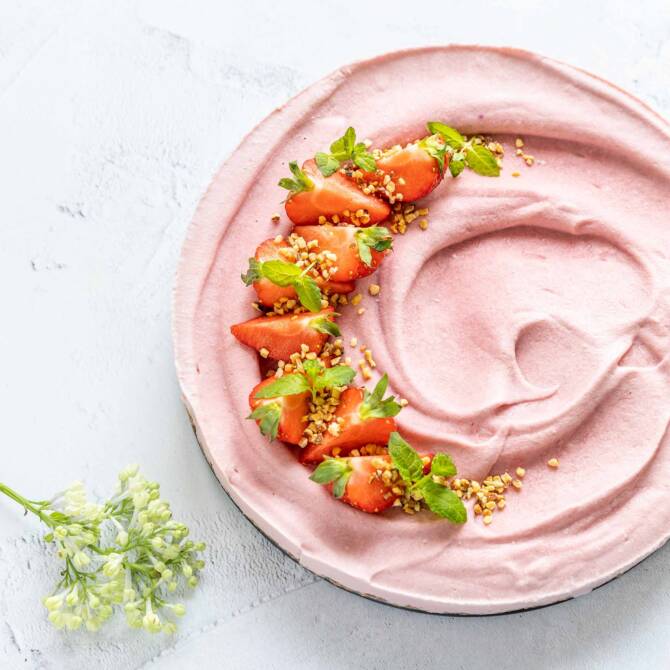 Vegan strawberry cake
Freezer not oven: Our strawberry cake with almonds and cashew nuts is raw and will bring a smile to any vegan's face. You bet.
Nutritional information per portion
Preparation
Soak the cashews in cold water for several hours or overnight.
In a high-speed blender or food processor, combine the ground almonds, dates and coconut oil to form a crumbly mixture. Place the mixture in a lined springform tin (Ø 18-20 cm) and press down.
Purée the cashews, lemon juice and zest in a blender or food processor. Then add the strawberries, SteviaSweet Granulated, liquid coconut oil and salt. Blend until the mixture is creamy and smooth. Spread the topping onto the base. Freeze the cake for 4 to 5 hours or overnight. Then remove from the freezer and release from the tin. Leave to thaw in the fridge for about an hour. Decorate the cake with strawberries, fresh mint leaves and ground almonds.
Back
Ingredients for 8 servings
Base
| | |
| --- | --- |
| 100 g | ground almonds |
| 70 g (8-10 pcs) | dried dates |
| 1 tbsp | liquid coconut oil |
Topping
| | |
| --- | --- |
| 250 g | cashews |
| juice and zest | of half a lemon |
| 250 g | strawberries |
| 2 tbsp | SteviaSweet Granulated |
| 4 tbsp | liquid coconut oil |
| 1/4 tsp | salt |
Serve with
| | |
| --- | --- |
| 100 g | strawberries |
| | mint leaves |
| | ground almonds |
Used Product:
Back